Jurassic World: Dominion Dominates Fandom Wikis - The Loop
Play Sound
Official Servers
[
]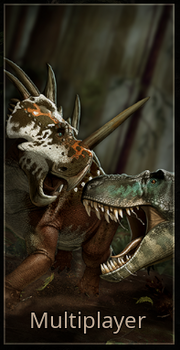 Official Servers are game servers that are run by Alderon Games directly, and are the most common way to play Path of Titans. You can access Official Servers by clicking the "Multiplayer" button on the main menu.
Official Server features include:
[
]
Characters are shared across all Official Servers
There are no in-games rules other than what is stated in the Alderon Games Terms of Service
Classic gameplay with no modifications or server adjustments
Region-specific servers are available to get the best connection for your area
Community Servers
[
]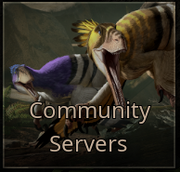 These are servers that are hosted by Path of Titans community members.
Community Server features include:
[
]
Ability to use game mods such as new maps, new dinosaurs, custom stats, different game modes, and more. Learn more about Modding!
Able to use Creator Mode to place down food, water, quest items, and more
Custom rules and message of the day
Can assign admins or moderators, and use other community management features
Characters are restricted to each individual community server
How do I host my own Community Server?
[
]
You can host your own Community Server by visiting the Alderon Games website: https://alderongames.com/pot-server-hosting
Where are the Server Chat Commands?
[
]
Here is a list of Server Commands, and you can find an up-to-date list of commands on the Alderon Games Community Server Wiki: https://github.com/Alderon-Games/pot-community-servers/wiki/Admin-Chat-Commands
Community Server Frequently Asked Questions
[
]
Want to host your own Path of Titans community server? It's easy to set up your own custom server for your friends and community! Create a unique experience for players and manage every detail to create your unique dinosaur experience!
Q: What can I edit on my server?
[
]
A: You can edit many settings on your server to build your own dinosaur experience, such as playable characters, character stats, game modes, mods and much more. View full server documentation here: https://alderon.games/pot-server-wiki
Q: Can hosted servers use banlists and allowlists?
[
]
A: Yes. You can specify a banlists and allowlists. You can also use reserve slots to guarantee certain players being able to connect to your server.
Q: Can I use Anticheat Software on my server?
[
]
A: Yes. Path of Titans currently supports Easy Anti-Cheat. More information can be found at https://www.easy.ac/en-us/
Q: How do I host a server on my own hardware?
[
]
A: Please visit our Community Server Wiki to learn how to set up your own server and follow the tutorial. https://alderon.games/pot-server-wiki
Q: Where do I download Path of Titans server files?
[
]
A: You can download the Server Files from our Community Server Wiki found here: https://alderon.games/pot-server-wiki
Q: I'm having trouble with my server, who do I contact for help?
[
]
A: Please contact your server provider for help relating to your rented server. If you are hosting a server on your own machine, please refer to our Community Server Wiki for help and info about common issues. https://alderon.games/pot-server-wiki